Meet The Team
Don Murray, Owner
After spending years in the corporate world in fields ranging from industry to real estate, Don decided to follow his true passion in life, dogs. Don cannot remember a time in his life that he was without a dog and he has been told over and over that he has a special connection and bond with them.
Don's successes in corporate translates to his level of professionalism and dedication to dog training. But only now has he truly found a deeper level of job satisfaction. "To see a problematic dog display confidence when returned to their amazed owner is maybe the greatest gift I can receive! The emotion is repeatedly, clearly displayed on the faces of owners and their gratitude for these big transformations confirms my passion and is the reason I do what I do!"
Don and his girlfriend Rebecca currently have three sidekicks: Hendrix, who Don rescued from a hoarder in Manatee who is a lab/pit mix who has permanent scarring on his ears from months of neglected fly bites but is now living large in The Dog Wizard world where he helps Don with socialization projects. Ellie, a high-energy, demanding border collie mix who has a great heart and loves trail running with Rebecca. And Quesa, an american bulldog/boxer mix who came to them as a foster but quickly found her way into their hearts and pack.
---
Brandy Edmonds, Trainer/Operations Manager
Born and raised in Bradenton, Brandy grew up knowing she wanted to work with animals in some way. Her family always had pets and their dogs were by far her favorite.
In 2013, Brandy moved to Columbus, Ohio and began working at a boarding and daycare facility that offered training. She was introduced to basic obedience training and loved watching dogs transform and improve their owners' lives. It was there that Brandy clearly realized that she was meant to work with dogs.
After three years in Ohio, Brandy moved back to Florida and got a job in the veterinarian field. Though she enjoyed being surrounded by animals all day, she couldn't quell the itch to focus on her growing passion for training dogs.
"I am so excited to join the Sarasota Dog Wizard team. There is always something more to learn with training and the possibilities are endless."
---
Jennifer Lowrimore, Trainer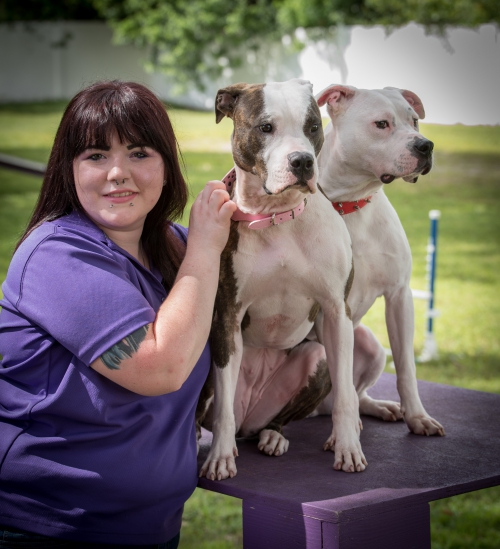 Jennifer was born into a very dog loving family and the passion for them quickly became her own. The very first family dog she can remember having was a boxer and she still has a soft spot for them.
Thinking it was the direction she wanted to go in, Jennifer went to college to become a vet assistant but soon realized it wasn't her calling. She found a job at a local doggy daycare where she learned basic grooming and training and more importantly came to realize her life's dream. She began focusing on the training aspect and taught group class, helped with private lessons and assisted with aggression cases. It wasn't long before training became her full-time role. The opportunity to join Sarasota Dog Wizard was a dream come true and Jennifer didn't hesitate to move cross country from Oregon to become part of the team.
Jennifer is a big advocate for Bully breeds. She has spent countless hours working with Bully rescues. She has two rescues of her own; Trooper an American Bulldog/Lab mix and Quinn a Boxer/Pit mix.
---
Heather Hawkins, Trainer/Office Administrator
Heather grew up in Sarasota. From an early age, she had a love of all animals especially horses and she began training and competing in dressage at the age of eight. That passion followed her to college where she initially majored in equine science. Concerned about career opportunities, Heather decided to shift her focus to people and received both her Bachelor's and Master's degrees in education. After graduating, Heather taught elementary school for seven years but couldn't shake the feeling she was supposed to be working with animals.
Heather began volunteering with dog rescue groups and quickly came to realize her love for dogs. She left the classroom and became a vet tech but her teaching skills were going to waste so she began focusing on dog training. She came to Sarasota Dog Wizard initially as a client to learn more about managing her own dog, Baloo, and it wasn't long before we wanted her as part of the team.
Heather will be teaching most of our group classes and private lesson programs and you'll likely speak to her when you call the office.
---
Robin Charlton, Trainer/Marketing Assistant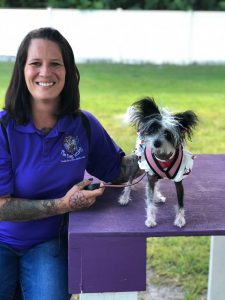 Robin grew up in Alberta Canada but found her way to the US in 2001. It wasn't until she was 21 that a dog came into her life and since then it has been a constant. She's had a variety of senior rescue dogs including a retired greyhound, an Aussie Shepard mix, a mini pin mix and rat terriers. Her current pack includes Trixie, a 15 year old chihuahua, a one year old whippet mix named Winston and a one year old toy Chinese crested named Tallulah. 
When Winston began showing behavioral issues, Robin took a basic obedience class and became very interested in different ideologies of training which ultimately brought her to Sarasota Dog Wizard. Prior to joining the team, she owned a tattoo studio, where she perfected her interpersonal relations. She also trained humans in fitness based industries including CrossFit and olympic weightlifting. She has worked with clients on an international level, learning to communicate though language barriers and cultural differences.
It is so rewarding to see people become the best versions of themselves and in the dog world that is only compounded because you are helping the dog and their owner! 
---
Maggie Mayhew, Trainer/Administrative Assistant 
Maggie was raised on Boca Grande island. She has always had a love of dogs and growing up she often dog-sat for friends and neighbors. In high school, she began volunteering at a greyhound rescue and her passion for working with animals continued to grow.
After years in retail, Maggie decided to pursue a career with dogs and went to work at a local pet resort and daycare. It was also about this time she got Stella, her second English Springer Spaniel, and decided to put her through training at Sarasota Dog Wizard. Like most of our clients, Maggie developed a relationship and bond with her trainer, and months later she was a natural choice to join the team and help us grow! Maggie continues to work with Stella on scent work designed to help her alert Maggie to changes in blood-sugar levels. She is recently engaged and we won't be surprised if Stella is her maid of honor.
---
Rebecca Boudreaux, Director of Marketing and Client Relations 
Rebecca grew up surrounded by animals. In spite of the fact she grew up in the heart of Washington, DC, her childhood home saw everything from the typical cats and dogs to the unexpected duckling and goats. Her family was known as one of two "rescues" in the neighborhood and many a stray animal found their way to them. As an adult, Rebecca went for a while without dogs. College, family and a busy marketing career left little time to devote to pets but when her daughter was old enough to help, they added a Border Collie named Kiva to their family.
Everything changed a few year ago when someone abandoned a dog tied to a telephone pole near the ice rink where her daughter skated. Rebecca found herself sitting in the dirt for hours, long after everyone else had given up, until the dog trusted her enough to help him. From that day on, she found herself visiting the nearby shelter doing what she could to help. Eventually she started fostering dogs and aiding in rescues and placement. Having the opportunity to use her marketing knowledge in a career that allows her to work with dogs is a dream come true.