Meet The Team
Don Murray, Owner
After spending years in the corporate world in fields ranging from industry to real estate, Don decided to follow his true passion in life, dogs. Don cannot remember a time in his life that he was without a dog and he has been told over and over that he has a special connection and bond with them.
Don's successes in corporate translates to his level of professionalism and dedication to dog training. But only now has he truly found a deeper level of job satisfaction. "To see a problematic dog display confidence when returned to their amazed owner is maybe the greatest gift I can receive! The emotion is repeatedly, clearly displayed on the faces of owners and their gratitude for these big transformations confirms my passion and is the reason I do what I do!"
Don and his girlfriend Rebecca currently have three sidekicks: Hendrix, who Don rescued from a hoarder in Manatee who is a lab/pit mix who has permanent scarring on his ears from months of neglected fly bites but is now living large in The Dog Wizard world where he helps Don with socialization projects. Ellie, a high-energy, demanding border collie mix who has a great heart and loves trail running with Rebecca. And Dixie, a three-legged terrier mix that he and Rebecca pulled from a shelter mere hours before she was supposed to be put down.
---
Jonathan Kral (Jack), Senior Trainer
Jack has been a dog lover since the age of six when he got his first dog, a cocker spaniel named Lacey. He grew up in North Georgia where his family bred cocker spaniels and he developed a connection with dogs that has stayed with him. Jack spent years in various fields including sales and restaurant work but working with dogs always remained a hobby. It was when Jack got his boxer Einstein that his desire to train dogs as a career strengthened. He credits Einstein with giving him the direction his life was missing. As a professional trainer with Sarasota Dog Wizard, Jack has found his true passion in life – helping dogs lead better lives and teaching their owners how to make that happen through patience and disciplined structure.
Jack has added to his pack and now has three dogs of his own; Einstein who recently turned four, Zoey a pit who is incredible at socializing puppies and Shaggy his little senior 11-year-old poodle mix.
"I'm thrilled to be with the Sarasota Dog Wizard. This is what I was made to do. This is what I love. I couldn't see myself doing anything else."
---
Daniel Filiatreault, Trainer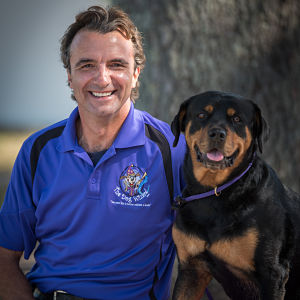 Daniel was born in Montreal and moved to the United States in 1999. Since he was a child, animals of all kinds have fascinated him but dogs were always his favorite. Though he surrounded himself with dogs wherever possible, he never considered the possibility of making them a career.
Daniel's professional background spans careers in the service industry, including as a massage therapist, where the relationship with his clients was a primary facet of his success. This understanding and genuine care of people's needs paired with his love and passion for dog training makes Daniel a perfect fit for Sarasota Dog Wizard's human-centered training methodology.
"I want to help dog owners, young and old, develop peaceful, solid relationships with their dogs. I am committed to providing the most effective solutions for my client's dog training needs."
Daniel's ultimate dream is to open a senior care facility in conjunction with a dog rescue.
---
Brandy Edmonds, Trainer
Born and raised in Bradenton, Brandy grew up knowing she wanted to work with animals in some way. Her family always had pets and their dogs were by far her favorite.
In 2013, Brandy moved to Columbus, Ohio and began working at a boarding and daycare facility that offered training. She was introduced to basic obedience training and loved watching dogs transform and improve their owners' lives. It was there that Brandy clearly realized that she was meant to work with dogs.
After three years in Ohio, Brandy moved back to Florida and got a job in the veterinarian field. Though she enjoyed being surrounded by animals all day, she couldn't quell the itch to focus on her growing passion for training dogs.
"I am so excited to join the Sarasota Dog Wizard team. There is always something more to learn with training and the possibilities are endless."
---
Jennifer Lowrimore, Trainer 
Jennifer was born into a very dog loving family and the passion for them quickly became her own. The very first family dog she can remember having was a boxer and she still has a soft spot for them.
Thinking it was the direction she wanted to go in, Jennifer went to college to become a vet assistant but soon realized it wasn't her calling. She found a job at a local doggy daycare where she learned basic grooming and training and more importantly came to realize her life's dream. She began focusing on the training aspect and taught group class, helped with private lessons and assisted with aggression cases. It wasn't long before training became her full-time role. The opportunity to join Sarasota Dog Wizard was a dream come true and Jennifer didn't hesitate to move cross country from Oregon to become part of the team.
Jennifer is a big advocate for Bully breeds. She has spent countless hours working with Bully rescues. She has two rescues of her own; Trooper an American Bulldog/Lab mix and Quinn a Boxer/Pit mix.
---
Rebecca Boudreaux, Director of Marketing and Client Relations 
Rebecca grew up surrounded by animals. In spite of the fact she grew up in the heart of Washington, DC, her childhood home saw everything from the typical cats and dogs to the unexpected duckling and goats. Her family was known as one of two "rescues" in the neighborhood and many a stray animal found their way to them. As an adult, Rebecca went for a while without dogs. College, family and a busy marketing career left little time to devote to pets but when her daughter was old enough to help, they added a Border Collie named Kiva to their family.
Everything changed a few year ago when someone abandoned a dog tied to a telephone pole near the ice rink where her daughter skated. Rebecca found herself sitting in the dirt for hours, long after everyone else had given up, until the dog trusted her enough to help him. From that day on, she found herself visiting the nearby shelter doing what she could to help. Eventually she started fostering dogs and aiding in rescues and placement. Having the opportunity to use her marketing knowledge in a career that allows her to work with dogs is a dream come true.