Partner Rescues
Some of the best dogs we know are rescue pups. Pulled out of a shelter or found on the streets, these dogs are often the most thankful and loyal companions. Sarasota Dog Wizard has established a partnership with Big Dog Ranch Rescue (BDRR) to provide training to some of their adoptable dogs who have come to them with training needs.
Meet some of the dogs:
Rocky

ADOPTED!
Found wandering the streets, Rocky is a one-year-old boxer mix. Sarasota Dog Wizard was able to procure foster placement and worked with BDRR to get him ready for adoption.
Charlie ADOPTED!
Charlie was rescued off the streets of Tampa by one of the staff members at Sarasota Dog Wizard. At nine months old, this sweet girl had likely lived on the streets for awhile. BDRR helped us get Charlie healthy while Sarasota Dog Wizard provided her a safe place to decompress.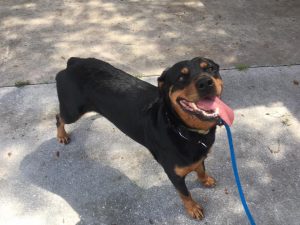 Eva ADOPTED!
Eva is a 5 year old Rottweiler who has lived her entire life in a kennel and as a show dog. She had very little contact with people other than the kennel assistant so she is awkward with people and other dogs. Her owners sent her to Sarasota Dog Wizard for socialization help and ultimately made the decision to surrender her to BDRR. Sarasota Dog Wizard will be fostering Eva until we can find her the perfect home and we will be on hand as a trainer and resource to her new owners to help transition into life. Eva needs a family with no small children or other pets. She is not aggressive but remains timid and would do far better in a quiet home.
See all of the dogs currently available for adoption through Big Dog Ranch Rescue.